The fully customizable dive computer with a bright color screen, extremely durable construction and mobile connectivity. Made in Finland.
EXTREME DURABILITY WITH FULL CUSTOMIZATION
The robust Suunto EON Steel is designed for divers who demand the most of their dive computer. With the extremely durable construction, wide-angle BrightSee™ color screen and multiple gas support, this dive computer is ideal for advanced diving. Customizable features and views add a new dimension to your diving when exploring the blue unknown. Tested in the toughest diving conditions, Suunto EON Steel is your reliable partner in all conditions.
HIGHLIGHTS
Fully customizable
Superior viewing
Robust construction
Wireless connectivity
See the whole story behind Suunto EON Steel, the fully customizable dive computer.
Try it out and go dive a wreck with the Suunto EON Steel!
Suunto EON Steel - made for divers by divers
The Suunto EON Steel was developed in close relationship with active divers. Watch the video and share the excitement.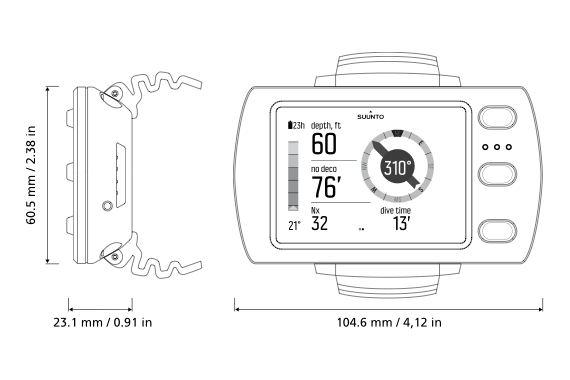 | | |
| --- | --- |
| Measurements | 104.6 x 60.5 x 23.1 mm / 4.12 x 2.38 x 0.91 " |
| Weight | 347 g / 12.24 oz |
| Bezel material: | Stainless steel |
| Glass material: | Xensation Glass |
| Case material: | Composite |
| Strap material: | Elastomer |
| What's in the box? | Suunto EON Steel, USB Cable, Quick Guide, Legal leaflet, Protective boot, Display scratch guard sticker, Bungee adapter and cord |
FULL CUSTOMIZATION
Customize features with Suunto CustomDisplay™ in Suunto DM5
Classic, graphical and prominent view styles
Use with strap or bungee
SUPERIOR VIEWING
Wide-angle BrightSee™color screen
High contrast color screen with large numbers
Always-on LED backlight
Visually intuitive, consistent presentation
Flip display
EXTREME DURABILITY
Brushed stainless steel bezel
Highly durable Xensation™ glass
Robust mechanical construction
Extensively tested and built to last
Guaranteed to 150 m depth
Rechargeable battery (20-40 hours of dive time with one charge)
CONNECT AND TRANSFER
Wireless tank pressure readings from up to 10 Suunto Tank PODs
Connect over Bluetooth to Suunto app to keep a dive log and share your adventures
Plan and customize easily with Suunto DM5
FOR ALL DIVING
Gauge/Air/Nitrox/Trimix/CCR (fixed point)
Suunto Fused™ RGBM for maximizing dive time
No-decompression dive planner
Tilt compensated 3D digital compass
User-updatable software
0 reviews for SUUNTO EON STEEL WITH BOOT AND USB